For
self confidence is a super power
once you start to believe in yourself, magic starts to happen
Code Girls United helps build confidence in our future generation
by providing hands on experience in technology and business.
donate
Your gift will continue to make Code Girls United program free for all students and help educate our future generation.
Register
The program is free for all students. Registration for 2021-2022 school year begins August 15, 2021.
Location
Interested in a Code Girls United program in your local town. Contact us today for details on how to make it happen!
Mission Statement
To expand the future career opportunities of 4th – 8th grade girls through hands on experiences in coding, technology, and business.
Code Girls United is a free after school program for 4th-8th grade girls. Each student learns the basics of creating and designing an app using App Inventor that solves a local community problem. They learn the basics of computer engineering and practical business skills throughout the course.
The students compete in three different competitions, including Code Girls United own NW Regional App Challenge (scholarship prizes awarded), the International Technovation Challenge, and the nationwide Congressional App Challenge.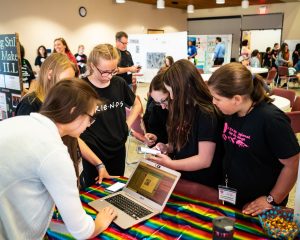 2021 NW Regional App Challange
Special thanks to all our volunteer judges and sponsors for making this years event a huge success.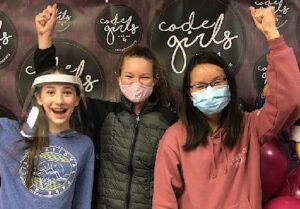 3rd place
oustanding
Octopi