2020 NW Regional App Challenge scheduled for May 2/3 has been Cancelled
Code Girls United is devoted to creating opportunities for 4th to 8th grade girls in technology course work, preparing them for successful high tech careers.
This commitment to these girls remains strong and will continue to be strong; however given the global Covid-19 pandemic, we need to make some adjustments. Out of an abundance of caution and care for our Code Girls participants, we will be suspending all Code Girls United activities.
If you have urgent questions or concern please contact Jan Shanahan at 406-300-4280.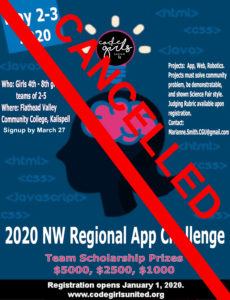 May 2 – 3, 2020 , Flathead Valley Community College
Open to girls 4th – 8th grade teams of 2 to 5 girls
FREE EVENT
The project could be a mobile app, website, or robotics project, but the girls must be able to demonstrate it and provide a science fair type display showing their problem, any supporting research, their solution, and other information about the technology they used. For example: flow charts, prototypes, code samples, design samples, future ideas, etc.
The NW Regional App Challenge is a chance for girls to demonstrate their coding project and meet with other like-minded girls. Girls will get great swag, have loads of fun, and have the opportunity to show off the projects they have worked so hard to complete. There's also a FREE lunch, great lunch speaker, and the chance to rub elbows with two real Venture Capitalists (just like on Shark Tank), University professors, and local technology company CEOS.
Parents/Mentors a TRAVEL STIPEND application will be made available.
The goals is to engage student creativity and encourage their participation in Science, Technology, Engineering and Math (STEM) education fields.
Scroll down to see the schedule.
View the daily schedule for the NW Regional App Challenge.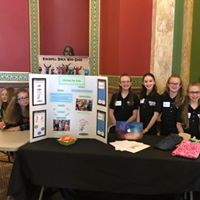 Science Fair Type Displays
Bring your coded project, devices to display and a tri-fold board explaining your project. Explain your problem and why you chose it, your solution, how you coded the project, any research you've done, flow charts, prototypes, code samples, design samples, and what you might want to do in the future to improve it.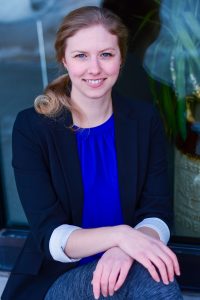 Lindsey Hanna
Enjoy your lunch (provided) while listening to an awesome inspirational speaker. Lunch is provided at no cost to participant and family attendees.
Lindsey is a Senior Software Engineer at Workiva, Bozeman, MT, a Montana State University Computer Science graduate, and the founder of Women Tech Makers Bozeman. Additionally, Lindsey is a winner of Montana's Judy Martz Women in Leadership Award.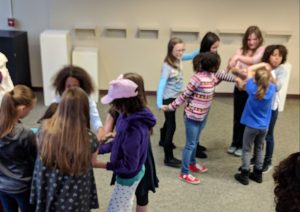 Team Building Fun & Semi-FInalists Announced
Have fun with team building exercises and meeting girls from all over our region.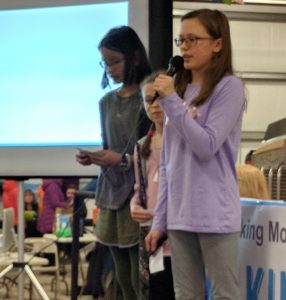 Semi-Finalists Panel Presentations
Semi-Finalists will present their project to a panel of judges that includes 2 Venture Capitalists, University Professors, & Technology Executives.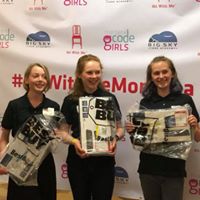 More Team Building Fun – Prizes Awarded
More fun activities for the girls and prizes will be awarded.